One of Hong Kong's most vibrant neighbourhoods, Sheung Wan walks the line between tradition and innovation. Read on for our best picks of restaurants, street food, fitness studios, and heritage sites in Sheung Wan.
Situated on the western fringes of Hong Kong's Central district, Sheung Wan is one of the city's most vibrant neighbourhoods, teeming with boutique shops, not to mention quirky bars and restaurants. An eclectic amalgamation of new and old and a microcosm of the bustling metropolis as well as the location of the Hive Sheung Wan, it's the perfect place to wander through, passing ramshackle old buildings and shiny new storefronts that reflect the city's unique character as you go on your way. Read on for our insider's guide to Sheung Wan.
Best Coffee Shops in Sheung Wan
Start the day off right with one of the best Western breakfasts Hong Kong Island has to offer. Buzzing with a coffee culture you've never seen before, this Castelo Concepts café is perfect for a lazy Sunday morning with your dogs, friends, and family.
Insider's Tip: You really can't go wrong with any of their generously-sized breakfast items. Make sure you don't go home without tasting their wide selection of homemade cookies which are (seriously) to die for.
Address: 151-155 Hollywood Rd, Tai Ping Shan, Sheung Wan
Open From: 7am-10pm
If you're into clean minimalism and Instagram aesthetics, you'll love the Cupping Room, known for their small-batch speciality coffee. With their neat lines, neutral wooden stools and award-winning baristas, you're sure to come away feeling refreshed and ready for the day.
Insider's Tip: Feeling peckish? They do a cracking eggs benedict with smoked salmon and sourdough bread, too. 
Address: Shop LG, The Centre Mark, 287-299 Queen's Road Central, Sheung Wan
Open From: Mon-Fri: 8am-5pm; Sat-Sun: 9am-6pm

FB: @kimandcocafe
IG: @cuppingroomhk
Best Restaurants in Sheung Wan
Informally known as Hong Kong's hottest Thai eatery, Chachawan draws a hip, modern crowd every night, serving up authentic Thai cuisine as well as their signature skewer dishes in a relaxed atmosphere that feels a bit like a local Bangkok hangout. If you're a fan of mango sticky rice, this will be right up your alley.
Insider's Tip: Can't take the heat? Just ask your server for milder options.
Address: 206 Hollywood Road, Sheung Wan
Open From: Mon-Sun: 12pm-3pm, 6:30pm-12am
Supafood – PERMANENTLY CLOSED
Feeling bloated from all that late-night fast food you've been snarfing down? Why not drop by Supafood at the Hive Sheung Wan? Their affordable, freshly made, quality meals, sprinkled with superfood toppings, are delicious, not to mention organic. Treat yourself with this guilt-free option.
Insider's tip: Don't feel like heading out of your apartment? Just order online here.
Address: 3/F, the Hive Sheung Wan, 33-35 Hillier Street, Sheung Wan
Open From: Mon, Fri & Sat: 9am-9pm, Tue-Wed: 9am-6pm (takeout or delivery only)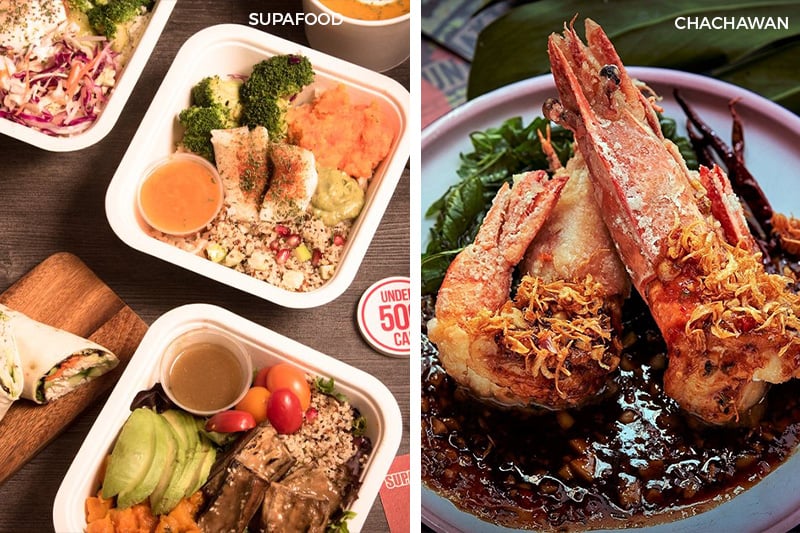 Deliveroo: Supafood @Hillier
FB: @chachawan.hongkong
If you've been kicking around Hong Kong for a while, chances are, you're a little tired of the weekly Sunday dim sum you've been gorging on. With their award-winning modern twist on Chinese cuisine, Little Bao switches things up. Headed by Asia's 2017 best female chef May Chow, they offer Hong Kong-ers what they call "an original take on classic comfort foods" – mostly served in buns that taste like their made in the heavens.
Insider's Tip: Swing by for dinner, then stay on for a couple of after-work drinks at their fully stocked bar.
Address: 66 Staunton St, Central
Open From: Mon-Fri: 6pm-11pm, Sat: 12pm-4pm, 6-11pm; Sun: 12pm-4pm, 6pm-10pm
Mammy Pancake
Hankering after some street food goodness? Mammy Pancake has you covered. This quaint, Michelin-recommended hole-in-the-wall puts its own fusion twist on Hong Kong's well-loved egg waffles, churning out unique flavours like cheese, salted egg, chocolate, matcha, and sweet potato.
Insider's Tip: While you're waiting for your order to be prepared, get your fresh juice fix from one of the fruit stalls just across the street and support the local neighbourhood.
Address: 32 Bonham Strand W, Sheung Wan
Open From: Mon-Sat: 12pm-9pm; Sun: 12pm-8pm

Little Bao Website
Burpple: @Blancheeze

Located in a two-storied heritage-listed house within the gardens of Hong Kong's PMQ, this leafy brasserie was awarded a Michelin star within half a year of opening and is nothing short of stunning – with a price tag to match! Opened by Julien Royer, the acclaimed French chef behind Asia's best restaurant Odette Singapore, Louise fuses casual fine-dining with palm trees and wicker chairs, creating a lush atmosphere that echoes the menu's beautifully inscribed epigraph, 'Make yourself at home.' Indulge in their innovative tribute to traditional French cuisine and be sure to try their angel hair pasta with Kristal caviar, black truffle shavings and kombu, as well as their much-lauded roasted Hong Kong yellow chicken with Niigata rice en cocotte and salad.
Insider's Tip: Their bright and airy terrace is the perfect spot for a relaxed weekend brunch on a sunny day. Tuck into their poached egg 'Bourguignonne' and Alba White truffle scrambled eggs on Saturdays and Sundays, from 12pm to 2:30pm.
Address: PMQ, 35 Aberdeen St, Central
Open From: Tue-Sun: 12pm-12am
From kofta to tagine and falafel to hummus, it's clear that modern Middle Eastern cuisine is fast becoming a firm favourite amongst diners. Known for their fantastic flatbread and featuring a delicious (and colourful!) array of small plates and cocktails that are designed to be shared, BEDU is the perfect spot for those keen for some lavish feasting in a cosy, dimly lit setting. Our picks include their Baked Feta with Smoked Lemon and Honey, their Beetroot and Mint Labneh and their glorious Rack of Lamb with Garlic Labneh and Za'atar Oil. 
Insider's Tip: Perfect for groups, there's also a chef's menu priced at HKD 370 per person. We recommend sitting by the bar for a view of the open kitchen.
Address: 40 Gough Street Central
Open From: Mon-Sun: 12-3pm, 6pm-late
IG: @bedu_hk
Louise HK

Best Bars in Sheung Wan
Presenting a painstakingly curated drinks menu, the average patron is spoiled for choice at this Japanese joint, long a favourite amongst Hong Kong's thirsty after-work crowd. Make sure you try their house-brand sake, cocktails or aged Japanese whisky. Offering both a food menu as well as a drinks menu, the modern izakaya is also famed for its charcoal-grilled chicken, incorporating cuts from neck to tail.  
Insider's Tip: No reservations allowed, so show up early to get a table, especially if you're in a big group!
Address: G/F, 154-158 Wing Lok Street, Sheung Wan
Open From: Mon-Sat: 6pm-12am
Decked out with tasteful, warm wooden panels and an elegant interior, there is no place better to sip a glass of wine on a Friday evening from the comfort of a velvet-lined seat. While you're at it, we'd recommend you try their authentic Napoletana pizza and their famous 208 Fettuccine all'Aragosta (it's might just be our favourite lobster pasta in Hong Kong!).
Insider's Tip: Up early on the weekends? Why not try their fabulous buffet brunch.
Address: 208 Hollywood Road, Sheung Wan
Open From: Mon-Fri: 12pm-10pm; Sat-Sun: 11am-12am

208 Duecento Otto Website
Asia Bars & Restaurants: Yardbird
What To Do in Sheung Wan
Want to stay fit, but don't know where to start? Why not come for a class at this welcoming studio with international award-winning instructors. Offering over 80 classes a week, and a variety of dance styles that ranges from Salsa to Hip Hop, Aerial Yoga to Zumba, you're sure to find something right for you, whatever your level.
Insider's Tip: Can't get enough of the friendly community here? Come out on a Tuesday night to futuristic nightclub Volar in Lan Kwai Fong where the studio hosts weekly Salsa nights!
Address: 8/F, Fung Woo Centre, 279-281 Des Voeux Road Central, Sheung Wan
Open From: Mon-Tue, Thu-Fri: 12pm-10pm; Wed: 11:30am-10pm; Sat: 11am-7:30pm; Sun: 10am-8:30pm
Focus your mind with this Cuban boxing studio for some after-work stress relief. Offering individual coaching or focused group sessions, their experienced instructors will work together with you to improve your endurance, speed and strength.
Insider's Tip: Feeling like you're not reaching your full potential? The studio offers personal training that will accelerate your progress far beyond your current capabilities.
Address: 4/F, Bonham Centre, 79-85 Bonham Strand, Sheung Wan
IG: @basicreflex
FB: @dancetrinityhk
No Sheung Wan neighbourhood guide would be complete without mentioning the Western Market. As Hong Kong's oldest surviving market building, this restored Edwardian-style establishment is home to an eclectic host of boutique shops, old school fabric stores, and traditional dessert eateries.
Insider's Tip: Wander through the Western market with visiting friends and family for a taste of Hong Kong's heritage, then hop on one of Hong Kong's historical trams (which have been running since 1904) at the terminus just around the corner for a captivating, nostalgic journey across the island's waterfront.
Address: 323 Des Voeux Road Central, Sheung Wan
Open From: 10am-12am

Come visit us!
the Hive Sheung Wan, 33-35 Hillier Street, Sheung Wan, Hong Kong