Our Hong Kong food guide covers the top 37 traditional dishes, from roast goose to chicken feet. How many have you tried?

It's no secret that Hong Kong people love their food. There's even an old Chinese proverb, '民以食為天', which translates literally as 'people regard food as the sky'. The only thing that locals care more about, perhaps, is efficiency – and the dining culture here certainly reflects that. Before we jump into the city's best eats, however, it's probably best that we quickly go over some history to better understand the city's fascinating food culture.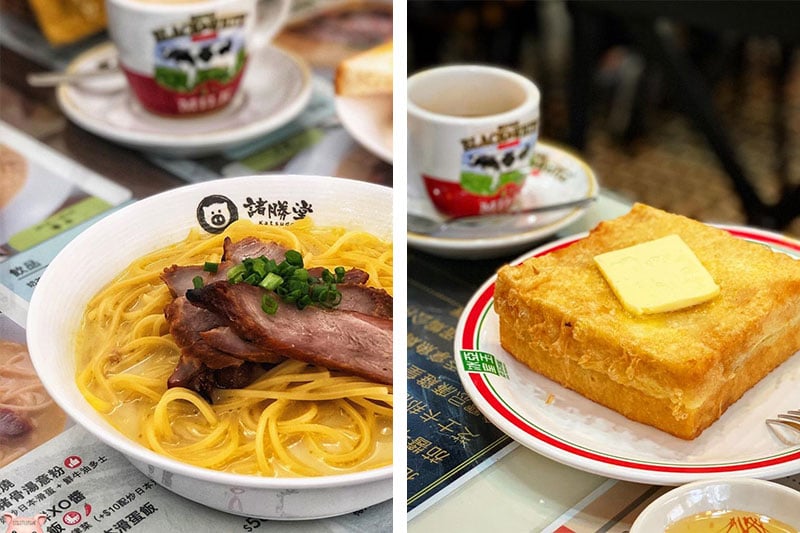 IG: @littlepig____
IG: @foodandtravelhk
Hong Kong Food: A Brief History
Before Hong Kong became a British colony in 1841, it was a small fishing town, with salted fish (haam yu) as one of its main trades, along with pearl and salt. Over the next hundred years, Hong Kong's population grew substantially as many Western merchants and locals began migrating over from nearby Guangzhou, bringing with them their home cuisines: dim sum from Guangzhou, and baking techniques from the West. 
Fast forward to the end of the Chinese Civil War in 1949 and waves of refugees arrived. This surge in mouths to feed, coupled with the city's rapid industrialisation and the consequential rise in factory workers, brought with it the need for fast and affordable food. 
And so the cha chaan teng was born. A diner-slash-café offering up sensory mashups of Eastern and Western cuisine, this local eatery has become an essential part of the city's rich and unique culinary heritage, matching the Hong Kong people's infamously fast-paced lifestyles with its equally fast (albeit brusque) service and focus on efficiency. Over the next half a century, Hong Kong would keep drawing influences from international cuisines, birthing local favourites such as egg waffles (gai daan zai), pineapple buns (bor lor bao), and Hong Kong-style milk tea (lai cha).

Now known as the 'culinary capital of Asia', Hong Kong is home to some of the world's best foods and restaurants. A melting pot of the East and West, its culinary landscape is as diverse as it is impressive, boasting a total of 63 Michelin stars, at the time of writing. Luckily for us, however, eating well in this city doesn't have to break the bank. In fact, there's an argument to be made that Hong Kong's best food may also be its cheapest. From traditional dim sum and streetside fare to the city's most iconic baked goods and pastries, here's our pick of the best local delicacies this culinary mecca has to offer and where to find them.
Breakfast & Brunch
In Hong Kong, breakfast is a no-frills affair that usually consists of either dim sum or Canto-Western dishes served up at your local cha chaan teng (茶餐廳). Literally meaning 'tea restaurant', this Hong Kong-style café offers up light-speed meals at super affordable prices, earning it the fond moniker 'soy sauce western food' (豉油西餐). Here we've listed some of our favourite dishes and our top spots to enjoy them.
Insider's Tip: While cha chaan tengs are renowned for their speed and efficiency, they're also notorious for their curt service and high customer turnover. So expect to be rushed through your meal as you're crammed shoulder-to-shoulder alongside strangers. Don't take any of it personally though; it's all part of the cha chaan teng experience!
Best Cha Chaan Tengs
• Australian Dairy Company (澳洲牛奶公司)
47 Parkes Street, Jordan, Hong Kong
• Kam Wah Cafe (金華冰廳)
47 Bute Street, Mongkok. Hong Kong
• Lan Fong Yuen (蘭芳園)
2 Gage Street, Central, Hong Kong
• Sun Heung Yuen (新香園)
38 Kweilin Street, Sham Shui Po, Hong Kong
#1 Macaroni Soup or tung fan (通粉)
If you've ever walked by a cha chaan teng in the morning, you've almost certainly spotted this local favourite. Simple yet delicious, this breakfast staple consists of elbow pasta that's submerged in a clear and (very) salty chicken broth, garnished with thin strips of crispy fried luncheon meat or ham, and served with either a side of fried eggs and toast or one of Hong Kong's uber-popular scrambled egg sandwiches (see below).
#2 Egg Sandwich or daan zi (蛋治)
A breakfast staple consisting of – you guessed it – scrambled egg wedged between two perfectly buttered slices of lightly toasted soft white bread, this ultra-simple sandwich can be found in convenience stores, bakeries, and cha chaan tengs all across the city. Sometimes accompanied by corned beef, other times with ham, this humble dish is a great takeaway option for those busy, Hong Kong mornings and is typically enjoyed alongside a cup of Hong Kong milk tea or lai cha.

IG: @crappysotong
IG: @fefefood1026
#3 Hong Kong French Toast or sai do si (西多士)
An iconic dish typically served at cha chaan tengs alongside a hot or cold Hong Kong-style milk tea, Hong Kong French Toast typically consists of two thick slices of soft milk bread sandwiched around some sort of spread (normally crunchy peanut butter, sometimes kaya) which are then soaked in egg, deep-fried and finished off with a generous drizzle of condensed milk and maple syrup. Golden and crispy on the outside, this decadent creation is everywhere in Hong Kong – and definitely worth the calories.
#4 Congee or jook (粥) 
When you're feeling a little under the weather, there's nothing more comforting than a soothing, warm bowl of congee. Simply put, congee or jook is a type of rice porridge that's typically served for breakfast or as a healing food for the sick, young and elderly. It can be eaten plain or dressed up with a variety of savoury toppings such as pickled radish, pork floss, salted egg, fermented bean curd, and char siu, and is often accompanied with yau ja gwai (Chinese fried dough sticks).
IG: @hua.dh
IG: @tofuandvanilla

#5 Hong Kong Milk Tea or gong sik lai cha (港式奶茶)
A quintessential part of both breakfast and lunch, Hong Kong's most iconic beverage is highly caffeinated and made using a blend of strong Ceylon black tea with other teas and milk (normally evaporated milk or sweetened condensed milk). Over the years, the drink has become so synonymous with Hong Kong culture that it's estimated that Hong Kongers consume a staggering 2.5 million cups a day.
Best Spots for Milk Tea
• Cheung Hing Coffee Shop (祥興咖啡室)
9 Yik Yam St, Happy Valley, Hong Kong
• Lan Fong Yuen (蘭芳園)
2 Gage Street, Central, Hong Kong
IG: @cutieada
IG: @cafestanley

Dim sum (點心)
Dim sum is one of the staples of Cantonese cooking and a popular breakfast item the world over. A traditional Chinese meal made up of bite-sized dishes that are served in bamboo steamer baskets or on small plates, dim sum was originally designed to be eaten communally as either breakfast or brunch, but has since evolved into an all-day affair in many Chinese cities including Hong Kong. Drinking tea is a central part of the meal, with the default usually being jasmine (香片). In fact, the meal has become so synonymous with drinking tea that locals will tend to use the phrase yum cha (飲茶) – literally meaning 'drink tea' – rather than dim sum to describe the experience.
Insider's Tip: Before digging into your dim sum, don't forget to clean your bowls, cups, and utensils with the basin of tea provided, in accordance with Chinese custom.
Best Restaurants for Dim Sum
• Tim Ho Wan (添好運)
G/F, 9-11 Fuk Wing Street, Sham Shui Po, Hong Kong
• Luk Yu Teahouse (陸羽茶室)
Luk Yu Tea House, No.24-26 Stanley Street, Central, Hong Kong 
• City Hall Maxim's Palace (美心皇宮)
2/F, Low Block, City Hall, Central, Hong Kong
• Lin Heung Kui (蓮香居)
2-3/F, No.46-50 Des Voeux Road West, Sheung Wan, Hong Kong
#6 Pork and Shrimp Dumplings or siu mai (燒賣)
A popular Cantonese dumpling dish that's served 'open-faced' and filled with minced pork, shrimps, and other add-ins, siu mai or shumai is instantly recognisable, thanks to its bright yellow wrapper, and can be found at most street stall vendors and dim sum restaurants. Hugely popular around the world, this local favourite is usually served alongside curry fish balls with either soy sauce or chilli sauce for dipping.
#7 Shrimp Dumpling or har gow (蝦餃)
Often referred to as shrimp bonnets due to its pleated shape, har gow is arguably the most popular dim sum dish of all. Known for its chewy, translucent skin, these prawn dumplings are a staple at any dim sum meal, with each bamboo steamer usually containing around three to four individual dumplings.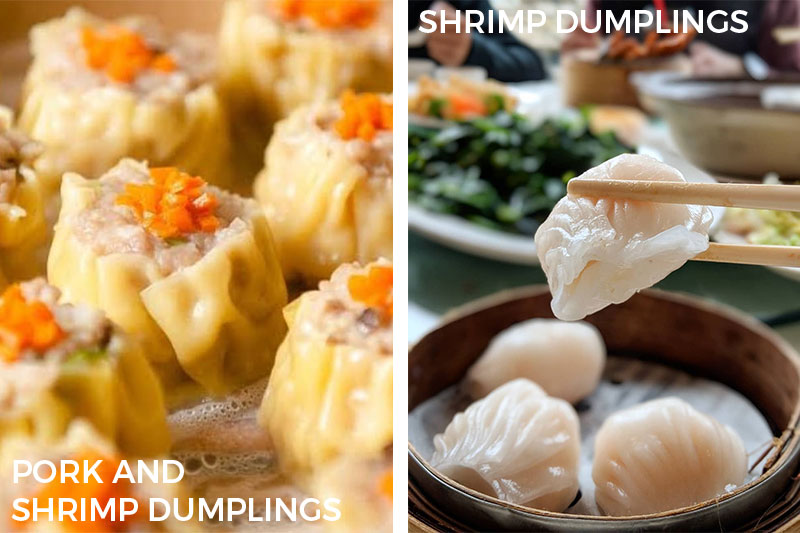 IG: @bh.bea
IG: @hangry.foodies

#8 BBQ Pork Buns or char siu bao (叉燒包)
A signature dish in dim sum restaurants around the world, these fluffy white buns are filled with a mixture of char siu (Chinese barbecued pork), scallion and a sticky sweet and savoury barbecue sauce and can be either steamed or baked. Packed with flavour, this humble dim sum favourite is the perfect comfort food for any time of day.
#9 Rice noodle rolls or cheong fun (腸粉)
Commonly served as a snack, a small breakfast meal or as part of a variety of dim sum, cheong fun is an umbrella term that describes rolled up rice noodle sheets which are steamed, doused in a sweet soy sauce, and wrapped around a myriad of fillings, such as roast pork, shrimp, and beef. The breakfast version of this local favourite forgoes the fillings and is instead served with a generous dollop of sauce, normally a mix of sweetened soy sauce, chilli sauce, peanut sauce and a sprinkle of sesame oil and sesame seeds, depending on the vendor.

IG: @la.casa.de.victoria
IG: @my.lovelyrecipes

#10 Fried Taro Dumpling or
wu gok
(芋角)
Fried taro dumplings (or 'taro puffs', as they're more fondly known) are made with taro, a starchy root vegetable that closely resembles a potato, that's first steamed and mashed, then stuffed with diced shiitake mushrooms, ground pork, shrimp, and scallions, covered in batter and eventually deep-fried to form a deliciously crisp outer shell and a creamy inner layer that simply bursts with flavour. A must-order at any dim sum meal, the perfectly executed taro puff is equal parts crunchy and fluffy, with a vaguely nutty and slightly sweet flavour to it.
#11 Steamed Glutinous Rice with Chicken or

lo mai gai

(糯米雞)



A glutinous rice dish that's usually filled with Chinese sausage (lap cheong), mushrooms, scallions, and salted egg, and then wrapped in a lotus leaf and steamed, lo mai gai is a popular dim sum dish that's commonly enjoyed for either breakfast or brunch.
IG: @hhsifishh
IG: @miso.en.place

#12 Turnip Cake or

lo bak go

(蘿蔔糕)



Sometimes referred to as 'radish cake', lo bak go is a dim sum staple that's commonly eaten during Chinese New Year. Made up of daikon (otherwise known as 'white radish'), cured meat, mushrooms, and dried shrimp paste, this savoury rice cake is usually steamed, cut up into thick, rectangular slices, and then pan-fried to create a golden and crispy exterior. 
#13 Chicken Feet or 'Phoenix Claws' or fung jaau (鳳爪)
In Hong Kong and throughout China, chicken feet are considered to be quite the delicacy and can be found on all dim sum menus, usually smothered in black bean sauce. First fried and then simmered for several hours until the meat and skin are tender and flavour-packed, this collagen-rich snack offers numerous health benefits that make it worth getting over that initial mental hurdle.
Best Restaurants for Chicken Feet
• Tim Ho Wan (添好運)
G/F, 9-11 Fuk Wing Street, Sham Shui Po, Hong Kong
• Ming Court (明閣)
555 Shanghai Street, Mong Kok, Hong Kong

IG: @hotthaikitchen
IG: @hkdingdingbrunch18
Cantonese Baked Goods (唐餅)
It would be an understatement to say that Hong Kongers love their baked goods. The streets are literally perfumed with the rich, buttery aroma of various styles of bread, pastries, and cakes. From the savoury to the sweet, here's our pick of the very best to make that morning commute all the sweeter.
Insider's Tip: As with all good things, it's recommended that you get your carb-fix early to avoid disappointment, as popular items tend to fly off the shelves by lunch.
#14 Pineapple Bun or bor lor bao (菠蘿包)
A kind of sweet bun that doesn't actually contain any pineapple to speak of, Pineapple Buns are soft and fluffy and topped with a golden-brown crunchy, chequered crust that somewhat resembles the epicarp of a pineapple. Sold in bakeries around the world, this sweet treat is usually sliced in half and served warm with a piece of butter wedged in between. Depending on the vendor, some versions might come with certain fillings such as custard, peanut butter, red bean stuffing, or meat.
Best Restaurants for Pineapple Bun
• Kam Fung Cafe (金鳳茶餐廳)
41 Spring Garden Lane, Wan Chai, Hong Kong
• Kam Wah Cafe (金華冰廳)
47 Bute Street, Prince Edward, Kowloon, Hong Kong
#15 Wife Cake or lo por beng (老婆餅)
Sometimes referred to as 'winter melon cake', 'sweetheart cake', or 'marriage pie', wife cake is a traditional Cantonese pastry with a sweet, chewy filling made up of winter melon, almond paste, and sesame. Flaky and oh-so-delicious, this Chinese bakery classic is one that makes for a tasty snack. 
Best Shops for Wife Cake
• Hang Heung Cake Shop (恆香老餅家)
Causeway Bay, Sogo Department Store, Basement 2, Causeway Bay, Hong Kong
• Wing Wah Cake Shop (榮華餅家)
G/F, 544 Queen's Road West, Shek Tong Tsui, Hong Kong
IG: @conniexchan
IG: @siftandsimmer
Roast Meat or siu mei (燒味)
According to CNN Travel, Hong Kongers eat siu mei once every four days – that's 66,000 tons a year! Typically served on a bed of steamed rice, this rotisserie-style meat can be spotted hanging under heat lamps in window displays all over the city, and are usually enjoyed as a quick and easy lunch box set.
There are usually 5 types of meat available:
#16 Chinese Barbecued Pork or char siu (叉燒)
Char siu is one of the world's great barbecue dishes – and one of the most ordered dishes in Cantonese cuisine. Loved the world over, this lunchtime staple is known for its salty/sweet contrast and its rich, sticky glaze and can be found on almost every street corner and menu. Usually paired with rice (char siu fan), char siu is comfort food at its best, with prices tending to range from around HKD 30 (USD 3.87) to HKD 300 (USD 38.71) and is the undeniable king of siu mei.
#17 Roast Goose or siu ngoh (燒鵝)
It would be an understatement to say that Hong Kongers love their goose. Characterised by its crispy reddish skin, tender meat and flavorful layer of fat, Hong Kong Roast Goose is traditionally marinated with soy sauce, red wine and oyster sauce and can be seen dangling in restaurant front windows across Hong Kong. Gamey in flavour and dripping with juiciness, it's become a hallmark dish in Hong Kong's traditional cuisine – and with good reason.
IG: @hkfoodelicious
IG: @food_food_food_in_my_mind
#18 Crispy Roasted Pork Belly or siu yuk (燒肉)
A personal favourite, siu yuk is a roasted pork belly dish made instantly recognisable by its crispy crackling and alternating strips of fat and meat. Incredibly rich in flavour, this dish is best enjoyed in tandem with another roast meat dish and served on a bed of rice.

#19 Roast Duck or siu ngaap (燒鴨)
Not to be confused with its more famous (and luxurious) cousin Peking, Cantonese roast duck features a crackling-crisp skin and juicy, meaty interior. A more affordable and everyday option, siu ngaap tends to be a cheaper substitute for the more popular roast goose option, though a delicious pick nonetheless.
IG: @florentine_lin
IG: @diegodoratayo
#20 Poached Soy Sauce Chicken or si yao gai (豉油雞)
Though not technically barbecued, this siu mei dish is another popular lunchtime option thanks to its ultra-tender meat and deep, savoury flavour. Traditionally slow-braised in a stew of aromatic Chinese spices and – you guessed it! – soy sauce, this famous chicken dish is as popular in restaurants as it is at home. A popular alternative to this dish is baat cit gai, a plain steamed chicken typically served with minced garlic and scallion.
Best Restaurants for Siu Mei
• Yung Kee Restaurant (鏞記酒家)
32-40 Wellington St, Central, Hong Kong
• Joy Hing BBQ Shop (再興燒臘飯店)
Block C, G/F, 265-267 Hennessy Road, Wan Chai, Hong Kong
• Kam's Roast Goose (甘牌燒鵝)
226 Hennessy Road, Wan Chai, Hong Kong
• Yat Lok Restaurant (樂燒鵝)
34-38 Stanley Street, Central, Hong Kong
IG: @9_cook_cookingclass
Other Popular Local Hong Kong Food Dishes
#21 Clay Pot Rice or bo jai fan (煲仔飯)
A delicious one-pot meal that is enjoyed all across Asia, clay pot rice is a local winter delicacy consisting of rice, cured meat, and a moreish sauce. Not dissimilar to the Spanish paella and Korean dolsot bibimbap, these sizzling clay pots are characterised by the extra crispy, chewy bits of rice found at the bottom of the pot. A versatile dish that can be combined with an endless array of toppings, make it a complete meal with Hong Kong's famous winter street snack, roasted chestnuts.
Best Restaurants for Clay Pot Rice
• Four Seasons Clay Pot Rice (四季煲仔飯)
50-52 Arthur St, Yau Ma Tei, Hong Kong
• Kwan Kee Claypot Rice (坤記煲仔小菜)
Wo Yick Mansion, Shop 1, GF, 263 Queen's Rd W, Sai Ying Pun, Hong Kong
#22 Hot Pot (火鍋)
Hot pot has been a defining part of Hong Kong and Chinese dining culture for over a thousand years. A fun communal eating experience that involves submerging an assortment of thinly sliced meats, raw vegetables, noodles and other such items into a giant, steaming pot of broth in the centre of the table, this do-it-yourself style dining experience is one of the best ways to bring together a table of friends and friends and is regarded by many as being a national pastime. 
Best Restaurants for Hot Pot
• Ying Kee Hotpot Seafood Restaurant (英記火煱海鮮酒家)
19 Wilmer St, Sheung Wan, Hong Kong
• Liu Yi Shou Chong Qing Hot Pot (重慶劉一手火鍋店)
Shop G32 G/F & Shop F30A 1/F, Lee Tung Avenue, 200 Queen's Road East, Wan Chai, Hong Kong
IG: @mrs_dimsum
IG: eunice.s.cc
#23 Beef Brisket Noodles or ngau lam mein (牛腩麵)
In typical Hong Kong style, this classic noodle dish is both cheap and efficient. Featuring flavoursome cuts of beef brisket which are slowly braised and served over thin noodles in a fantastically rich and savoury beef bone broth, this humble and yet surprisingly complex dish is collagen-rich and a bestseller on any menu.
Best Restaurants for Beef Brisket Noodles
• Kau Kee (九記牛腩)
21 Gough Street, Central, Hong Kong

• On Lee Noodle Shop (安利魚蛋粉麵)
22 Shau Kei Wan Main St E, Shau Kei Wan, Hong Kong
#24 Birds Nest Soup (燕窩)
An expensive delicacy that's believed to enhance the immune system, improve the libido, and aid digestion, bird's nest soup is made from a combination of chicken soup and the dissolved nests of swiftlets, a small bird native to Southeast Asia (and these nests – wait for it – are made from bird's saliva). Known by many as 'the caviar of the East', this dish can cost anywhere from USD 30-100 a bowl thanks to its perceived magical properties.
Best Restaurants for Bird's Nest Soup
• Shang Palace (香宮)
64 Mody Rd, Tsim Sha Tsui, Hong Kong
• Man Wah (文華廳)
25/F, Mandarin Oriental, 5 Connaught Rd Central, Central, Hong Kong
IG: @w.seong_h
IG: @katkooooooooooo
#25 Century Egg or pi daan (皮蛋)
Also known as 'preserved egg', 'thousand-year-old egg' and 'millennium egg', this Chinese delicacy is cured and boiled for weeks, sometimes months, causing the yolk to develop a rich, creamy texture and turn dark-coloured and gelatinous. Often accompanied with pickled ginger root, this dish can be served hot, cold, chopped, or with tofu, and is worth giving a go – if you can stomach it. 
Best Restaurants for Century Egg
• Yung Kee Restaurant (鏞記酒家)
32-40 Wellington St, Central, Hong Kong
• Kam's Roast Goose (甘牌燒鵝)
226 Hennessy Road, Wan Chai, Hong Kon
#26 Typhoon Shelter Crab or bei fung tong caau haai (避風塘炒蟹)
Believed to have originated from the typhoon shelters around Aberdeen, Lei Yue Mun, and Causeway Bay in the late 1800s, typhoon shelter crab is a taste of old Hong Kong at its best. Flash fried with garlic, scallion, black beans, and red chilli, then piled high with toasted garlic, chilli, spring onion and shallot, the end result is always certain to pack a punch thanks to its unapologetically bold flavours. Widely available in many Hong Kong seafood restaurants, customers are usually able to pick their spice level when ordering the iconic dish so those with low spice tolerances needn't worry.
Best Restaurants for Typhoon Shelter Crab
• Under Bridge Spicy Crab (橋底辣蟹)
Shop 1-2, G/F, 414-424 Jaffe Road, Causeway Bay, Hong Kong
• Hee Kee Fried Crab Expert (喜記避風塘炒辣蟹)
Shop 1-4, 379 Jaffe Rd, Wan Chai, Hong Kong
IG: @foodnomad
IG: @hkfoodieauntie
#27 Stinky Tofu or chou doufu (臭豆腐)
Regarded by many as being the Chinese version of blue cheese, this street food classic has certainly earned its rather dubious moniker. It's been said that its unique and notoriously pungent odour will stay with you long after you've finished eating it, a smell that some claim is akin to that of rotten garbage or smelly feet. A Chinese form of fermented tofu that's deep-fried and served with soy sauce and chilli, it can normally be found at late-night markets and at roadside stands around Hong Kong.
Best Vendors for Stinky Tofu
• Food Stalls at Temple Street
Yau Ma Tei, Hong Kong
• Kai Kei Snacks (佳記小食店)
41 Dundas Street, Mong Kok, Hong Kong
#28 Fish Balls or yu daan (魚蛋)
The quintessential street food, fish balls can be found at pretty much any savoury street stall in Hong Kong and can come spicy, plain or dipped in curry. Yellow, white and golden, and coming in a variety of shapes and sizes, this local staple consists of a fish meat mixture which is rolled up into a ping-pong sized ball and then either deep-fried or boiled in a soupy broth. Often served in tandem with siu mai, fish balls are traditionally enjoyed on a skewer or as part of a noodle dish.
Best Restaurants for Fish Balls
• Yum Kee (欽記)
Address: Unit CFS36, 2/F, Tai Po Hui Market, 8 Heung Sze Wui St., Tai Po, Hong Kong
Best for: Fish ball noodles
• Food Stalls in the Mong Kok Area
Address: Yau Tsim Mong District, West Kowloon Peninsula, Hong Kong
Best for: Curry fish ball
IG: @rose.eat_tainan
IG: @charmaine1210
#29 Beef Ho Fun or beef chow fun (干炒牛河)
Made from stir-frying thinly sliced beef along with flat, wide rice noodles (ho fun), and beansprouts, beef ho fan can commonly be found at yum cha restaurants and cha chaan tengs across the city. Simple, tasty and incredibly satisfying, this dish can be either dry-fried or wet-fried, depending on your personal preference.
Best Restaurants for Beef ho fun
• Ho Hung Kee (何洪記)
12th Floor, Hysan Place, 500 Hennessy Road, Causeway Bay, Hong Kong
• Tai Ping Koon Restaurant (太平館餐廳)
G/F, No. 60 Stanley Street, Central, Hong Kong
#30 Wonton Noodles or wanton mein (雲吞麵)
One of Hong Kong's great comfort foods, wonton noodles or wanton mein is a dish made up of egg noodles, a clear and rich broth, leafy greens, and wonton wrappers stuffed with a mixture of cooked pork and prawn. Served in a flavorful chicken, pork, or seafood broth, it's a heartwarming traditional dish that every self-respecting Hong Kong-er will savour. 
Best Restaurants for Wonton Noodles
• Mak's Noodles (麥奀雲吞麵世家)
Address: 77 Wellington Street, Central, Hong Kong

• Ho Hung Kee (何洪記)
Address: Shop 1204-1205, 12/F Hysan Place, 500 Hennessy Road, Causeway Bay, Hong Kong
IG: @andy8207
IG: @elim_hang_around
#31 Cart Noodles (車仔麵)
A traditional streetside snack, cart noodles originated in the 1950s and offer an unbelievable range of toppings, from squid balls and chicken wings to pig's blood and offal. Made popular by their super low prices and appealing DIY-aspect (you can customise everything from the noodles and fillings to the sauce and portion sizes), cart noodles hold a special place in Hong Kongers hearts – and stomachs.
Best Vendors for Cart Noodles
• Man Kei Cart Noodles (文記車仔麵)
121 Fuk Wing Street, Sham Shui Po, Hong Kong
• Noodle Supreme (麵尊)
Shop 1, 22-24 Jervois Street, Sheung Wan
IG: @homie_de_foodie
Traditional Hong Kong-style Desserts (港式甜品)
From savoury egg tarts to sweet gelatinous puddings, there's plenty to get excited about in this culinary capital. Scroll down for our pick of Hong Kong's best local desserts.
#32 Egg Tart or daan tat (蛋撻)
Said to be a variation of the English custard tart, this local snack was originally introduced to Hong Kong via Guangzhou in the 1940s and consists of a buttery pastry shell filled with a sweetened egg custard. Typically served at Chinese bakeries, dim sum restaurants, and local tea houses, the egg tart is one of Hong Kong's most iconic desserts – and for good reason.
Best Restaurants for Egg Tart
• Tai Cheong Bakery (泰昌餅家)
Address: 35 Lyndhurst Terrace, Central, Hong Kong
• Kam Fung Restaurant (金鳳茶餐廳)
Address: 41 Spring Garden Lane, Wan Chai, Hong Kong
#33 Mango Pudding (芒果布甸)
Best served cold with evaporated milk, Hong Kong-style mango pudding has to be just about the best way to end a dim sum feast. Silky, smooth and usually punctuated with fresh mango pieces, this vibrant dessert dish has a light and creamy texture to it and tastes equal parts sweet (though not too sweet!), tart and packed with mango flavour.
Best Shops for Mango Pudding
• Honeymoon Desserts (滿記甜品)
10A–C Po Tung Rd, Sai Kung, Hong Kong
• Luk Lam Dessert (綠林甜品)
Un Chau St, Sham Shui Po, Hong Kong
IG: @sonoko.hongkong
IG: @kaho_cooking_lab
#34 Egg Waffles or gai daan zai (雞蛋仔)
Hong Kong egg waffles (sometimes referred to as 'egg puffs', 'eggettes' or 'bubble waffles') are one of many long-standing popular street foods in Hong Kong. These bobbly, spherical waffles normally come in two flavours – plain and chocolate – and are cooked-to-order in an iconic waffle-iron. Known for their crispy crunch, eggy flavour and chewy centre, these waffle-pancake-hybrids have withstood the test of time – and it's not hard to see why.
Best Shops for Egg Waffles
• Oddies Foodies
G/F, 45 Gough Street, Central, Hong Kong
• Mammy Pancake (媽咪雞蛋仔)
1-5 Haven Street, Causeway Bay, Hong Kong
#35 Tofu Pudding or dau fu fa (豆腐花)
One of the city's most beloved desserts, Hong Kong's silky tofu pudding blends soybean milk with a coagulant, such as gelatin or gypsum, and can be enjoyed hot or cold, sweet or unsweetened, and plain or with toppings. Gelatinous in texture and boasting a rich soya taste, dau fu fa can be found everywhere from streetside carts to dim sum restaurants. In Hong Kong, it's usually served with a clear sweet syrup infused with ginger. 
Best Restaurants for Tofu Pudding
• Kung Wo Dou Bun Chong (公和荳品廠)
118 Pei Ho Street, Sham Shui Po, Hong Kong
• 阿英豆漿坊
Portion B of Shop Nos. 4 & 5, G/F., Smithfield Court, 41A-43 Smithfield Road, Hong Kong
IG: @c.w._kitchen
IG: @eatme.hk
#36 Mango Pomelo Sago (楊枝甘露)
A Cantonese dessert that you can find on most Chinese menus around town, mango pomelo sago is composed of sago pearls (similar to tapioca pearls), diced mango, sliced pomelo, coconut milk, evaporated milk and milk. A refreshing summer dessert that's chewy and full of mango flavour, this chilled pudding-slash-soup is also popular in Singapore and Taiwan.
Best Restaurants for Mango Pomelo Sago
• Hui Lau Shan (許留山)
49 Carnarvon Rd, Tsim Sha Tsui, Hong Kong
• Lei Garden (利苑酒家)
Shop 3008, 3/F, IFC, 1 Harbour View Street, Central, Hong Kong
#37 Dragon's Beard Candy or lung sou tong (龍鬚糖)
Similar to cotton candy, dragon's beard candy is an old-time local favourite in Hong Kong. Made by hand, this traditional confectionery treat involves stretching and twisting thousands of paper-thin strands of a sugary floss and wrapping them around a crunchy centre, usually consisting of ground peanuts, coconut shreds, and sesame seeds. A time-consuming process that requires a masterful hand, this is a truly rare and unique dessert that's a must-try if you're passing through Hong Kong.
Best Shops for Dragon's Beard Candy
• Wing Wah (榮華)
Shop B34-B35, B1/F, Lee Tung Avenue, Wan Chai

• Super Bowl King Traditional Sweets and Desserts (砵仔王)
2 Hillier St, Sheung Wan, Hong Kong
IG: @crumblycrust
IG: @obxxob
Related Articles
A Foodie's Guide To Tai Kwun, Hong Kong
13 Best Bars & Restaurants in Soho, Hong Kong