Meet the brothers behind one of Hong Kong's most legendary and longstanding bespoke tailors, Yuen's Tailors, as they talk through their beginnings as a small gift shop in 1974 to their work now as one of the last stalwarts of their trade.
Once a city as famous around the world for its tailors as it was for its dumplings and ferries, Hong Kong's fashion credentials have changed almost beyond recognition over the last 40 years. There are some outfits, however, that stand the test of time. Chief among them is Yuen's Tailors, a family business established by two brothers in 1974 next to the city's Shek Kong Barracks. Still leading lights in bespoke tailoring today from their homely Yuen's Tailors shop five minutes away from the Hive Central, Bonny and Johnny Yuen have been making Savile Row-worthy suits for over 30 years. They sat down to tell us why, sometimes, the old way works best, and how they plan to save their craft for the future.
Recently relocated to one of Hong Kong's hottest retail spots in the newly restored Central Police Station compound Tai Kwun, Yuen's Tailor is still an unpretentious store packed with old-world charm. White walls lined with framed pictures of the brothers and their customers surround neat stacks of fabric and racks of unfinished suits. And, in the middle, stands Bonny, sleeves-rolled-up, measuring tape around his neck, skillfully snipping away at a piece of dark blue cloth with his scissors.
Bonny has been cutting suits since 1969 when he left school at the age of 15. "I was under the tutelage of seven masters at that time. Every day, I worked from 7 am to 11 pm, more intense than the 9-to-5 jobs of nowadays," he grins. "The 70s was the golden era for manufacturing. You could be a goldsmith, an ivory craftsman, or an auto technician, but of all the career options, tailoring was always of greatest interest to me," he remembers. So began his lengthy apprenticeship. For three years, he spent his days toiling away in various workshops before completing a two-year apprenticeship at The Mandarin Hotel and then finally taking over his family gift shop near the Shek Kong Barracks in the New Territories.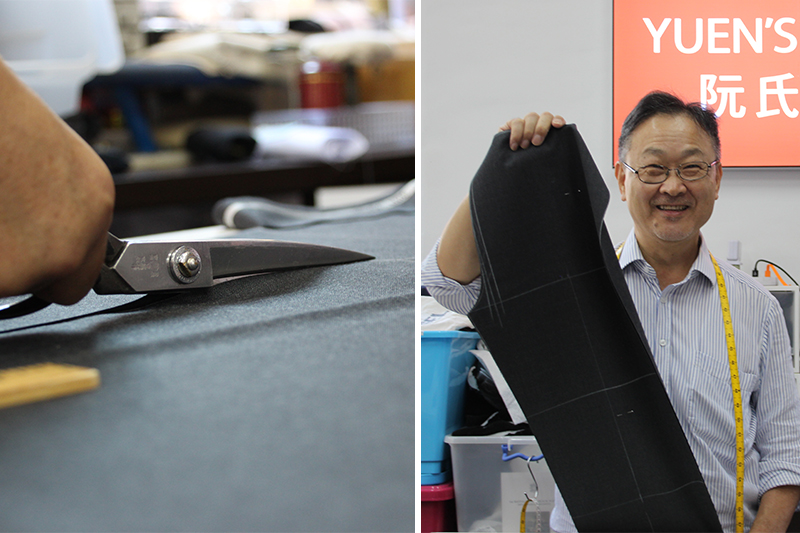 At first, the idea was as simple as offering a stitch-and-sew service to the armed forces stationed nearby. But, with natural skills and aptitude, the Yuen brothers quickly caught the attention of the servicemen. Soon, they were the barracks' go-to tailors, making everything from military uniforms to Scottish kilts, and in 1977 they were appointed by British Ministry of Defence to be the tailoring contractor in Stanley Fort.
For 44 years, Bonny has been working shoulder-to-shoulder with his elder brother. Whilst the former takes care of measurements and cutting, Johnny handles the fittings and business operations. Despite having their own workshop, the duo are still involved with every aspect. "It is the only way to ensure the quality of the products," says the artisan, while casting a watchful eye over the shop where his brother assists a customer. "How do you feel about the suit?" asks Johnny. "We adjusted the shoulder pad because your left shoulder appears to sag a bit, but how you actually feel is most important." "It fits perfectly! I trust you guys," replies the satisfied customer, looking into the mirror.
The conversation is a perfect demonstration of what has defined Yuen's Tailors for decades – craftsmanship, excellent service and an uncompromising commitment to quality. Unlike a lot of tailoring outfits, who use glue stiffening for suit making, every bespoke piece is made locally, fully canvassed by hand. "This method may be time-consuming, but it guarantees the longevity of our suits," Bonny explains. Each creation takes up to one month to make, selling for an average of HKD$8000. The good balance of quality and cost has helped them build up a solid and loyal customer base. "We still have customers from the UK whose grandparents were our long-term patrons," says Bonny, proudly.
Next year marks the 50th anniversary of Bonny's career at Yuen's Tailors. Over those five decades, the Yuens have witnessed the rise and fall of their craft. Fifty years ago, the city overflowed with bespoke tailors whose creations rivalled those on Savile Row. "These days, our biggest competitor is the culture of fast fashion, where many consumers have chosen efficiency over quality," says Bonny. A more pressing issue is also the catastrophic skills gap they face. "Further education has been given the priority among parents and students. And, given the wealth of career options available, apprenticeship and craftsmanship are now considered less-desired alternatives."
The industry may have fallen on a hard times, but Bonny is adamant his sector is far from dying off. "The market may not be as big as it used to be, but there is no shortage of appetite for handcrafted, bespoke suits," he says. Committed to revitalising his waning craft, he has launched a shirt tailoring workshop in collaboration with Tai Kwun and other experienced practitioners. "Instead of outsourcing tailoring work to China, we hope to bring the production and skills back to Hong Kong," he explains. "Most importantly, we want to garner support from the locals. They are the backbone of our business. I hope our dedicated work can reignite their interest in bespoke tailoring. It is a challenge, but it also keeps me motivated everyday. And before I've achieved this goal, I'm not ready to retire."
Related Articles
5 Tips on Picking a Tailored Suit in Hong Kong
Grooming the Next Generation of Tailors