K11 Musea is Hong Kong's new luxury supermall that aims to change the game when it comes to bridging the gap between sustainability and shopping. New World Development Head of Sustainability Ellie Tang tells Hive Life how they plan to do just that. 
As one of the most anticipated retail projects in Hong Kong – and the so-called 'Silicon Valley of Culture,' K11 Musea is breathing new life into our idea of what a shopping experience not only looks but feels like. Spearheaded by the New World Development Group and masterminded by cultural entrepreneur and tycoon Adrian Cheng, the K11 Musea mall is one part of their USD 2.6 billion decade-long project to resculpt three million square feet along Hong Kong's Victoria Dockside, just part of their quest to prove a point that, in the future, retail could be a sustainable exercise. We met Ellie Tang, Head of Sustainability at the project owners' New World Group, to discuss just how they plan to reframe the retail experience.
Since its inception in 2009, the K11 project set out to deliver on a new dawn of retail. "It set up a core mission in art, people and nature. We want to experiment with the possibilities between these three components through immersive retail and a very creative use of space," says Ellie, introducing their initial concept. With this core philosophy in mind, one of the first things K11's creators set out to do was connect their visitors with a world that, normally, could not be further from the glossy polish of Hong Kong's world of mega malls – they wanted to help their visitors discover the city's abundant nature. "I think when people hear K11, they don't naturally think of nature. But, we want people to come here and reconnect with what matters."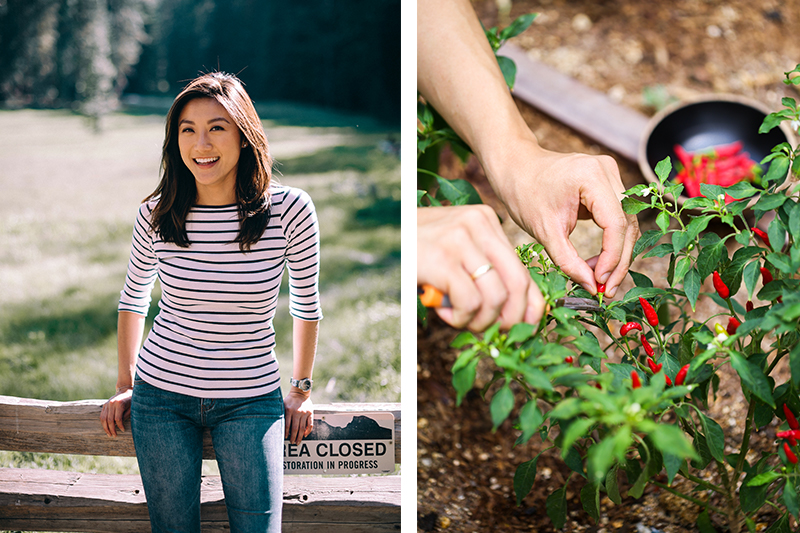 Strolling along the promenade on the Kowloon side of Victoria Harbour, visitors now come across a stepped building clad in smooth Portuguese limestone perched on the dockside. Look closer, and you'll see a façade dripping in plants, green walls and a lush botanical feature designed by Thai landscape and design studio PLandscape. The collective work of no less than 100 creatives including Kohn Pedersen Fox and LAAB Architects, it's not a feat that can be easily missed. Inside, along with a flamboyant bronzed interior and all the usual suspects you'd expect from a luxury mall from fashion to design (Hong Kong's first MOMA store,) beauty to food, shoppers can also find resources that are less about hitting the shops inside than they are about the world outside.
Chief among these exhibits is the Nature Discovery Park, Hong Kong's first urban biodiversity and sustainability-themed education park tucked up on the 8th floor. Enter, and you're welcomed with an interactive jellyfish display, an outdoor aquarium with local marine species, an open urban farm, art installations by Thai artist Korakrit Arunanondchai and German artist Carsten Höller, and an intimate butterfly garden. "It's a bit different to how you'd expect a butterfly garden to be like because we don't want to trap any living things. We planted a lot of nectar plants and flowering plants to naturally attract birds, butterflies, moths and bees in an effort to recreate natural habitats of HK," explains Ellie.
All these intricate features were put in place to shed light on what nature in Hong Kong already has to offer. "Hong Kong is a very special place. Even the locals are not aware of how rich our ecosystem is here," says Ellie. "We're blessed with beautiful trails, mountains, a gorgeous harbour, and rare species, too. Our ecosystem is unique because, as we've imported more species over the years, they've become a part of our ecosystem, kind of like our society. But, this is all changing very quickly with the impact of climate change. We need to think of a new way to sustain our lifestyle, hence the creation of the Nature Discovery Park." She believes that our indifference to nature can be changed only if the issue at hand is put in front of our eyes. "In the West, typically people are more aware of nature because there's more space and people live closer to it. In Hong Kong, not a lot of people have that luxury, right? So, it's that disconnect. You're not even aware of what's around you, so how would you go about appreciating it, let alone protecting it?"
Collaborations range from those from academia such the University of Hong Kong's School of Biological Sciences and the Jane Goodall Institute to initiatives with local social entrepreneurs such as Vcycle, a company empowering marginalised communities by training them how to collect and sort plastic, who then use those materials to upcycle. This all plays into K11's belief that education is the keystone to sparking awareness early. "A main challenge is to convert people that are not familiar with sustainability to slowly adopt good habits," says Ellie. Engaging the public with hands-on activities is one way to spread the message. "It's not always about shoving climate change concepts in their face and telling them about Doomsday material. It's really to encourage appreciating the beauty of nature. Then they will feel like this is part of their home and they should protect it." To further this cause, the park offers daily guided tours and urban farming taster workshops that teach basic farming techniques for people to adopt in their very own homes. 
It's not enough to just engage consumers on the surface; they have to involve commercial players in the movement too. "As a city, we do have a carbon reduction target. But, there's no mandatory follow-up requirements for businesses or even by sectors to achieve this overall goal," explains Ellie of standard retail practice. New World is trying to bring in their own measures. "We introduced a voluntary sustainable tenancy pledge," she continues. Pioneering the initiative with a bank as their first contender, K11 encourages sustainable corporate behaviour with a reward-based system: "We provide free smart metres for them to measure their energy consumption within their office space. If they're able to successfully save energy, we will reward them with employee engagement opportunities as encouragement." 
While the pledge is optional for office and retail spaces, it's mandatory for F&B. "It pledges to take out sensitive menu items like shark fin. There were some controversies – Chinese restaurants made a pushback, but we saw it as an opportunity to educate. In the end, they were willing to comply, and we turned a risk into an opportunity," she expresses. Restaurants are also encouraged to offer smaller portions upon request, and to sort cooked and raw food waste so it can be sent to an in-house food decomposer that converts food into CO2 and water. When asked how difficult it's been to get retailers on board, Ellie is adamant it's not as hard as it seems. "Sustainability sounds like a very Western, broad and novel concept. But, a lot of East Asian countries have a Confucian background – and Confucians practice moderation. Sustainability is just that. It's about keeping a balance, not overextending, not over-consuming. It's just that the term sustainability itself now also takes the connotation of environmentalism and social engagement, good corporate governance and being a good corporate citizen."
Related Articles
Through the Lens: Exploring the Forbidden Walled City
Vietnamese Architecture Firm VTN Architects is Building Greener Cities
Japan Camera Hunter: Why Analog Photography is Making a Comeback