Widely known as one of the most expensive cities in the world, Tokyo offers plenty of more creative options to bunker down for a little less. Read our guide to sleeping in Tokyo for some of the city's more surprising nap spots. 
Sneaky Snooze Spots 
Inemuri, meaning "sleeping while on duty," is a Tokyo phenomenon that blankets more than just naps at your desk. Catering to its famously hard-working populous, the city offers some pretty creative alternatives for you to lay your head down. Here are some of the more adventurous options you might like to try. 
While coffee and sleep don't typically go hand-in-hand, this café cradles the contrast with ambient lighting and cushy pillows. Moonlighting as a gallery and event venue, this spot has a no-kids policy and invites you to slip into snooze mode in one of the many hammocks hanging in its homey space. Offering up a selection of nutrition-specified meals, craft beers, coffee and tea, here, you can kick back, order a pick-me-up and sink into a daydream. And, if you're really digging the boho-style nap, they've got hammocks for sale too!  
Best for: A place to relax midday
Address: 2 Chome-8-1 Kichijoji Minamicho, Musashino, Tokyo 180-0003, Japan
New to the scene, this hotel-meets-café caters to city dwellers with no time to lose. Created to facilitate the nap-inclined, Nescafe Sleep Cafe will set you up with a locker and a comfortable recliner or bed, giving you a time-slot option of 30, 60, 90, 120 or 180 minutes. If you pick one of the longer "sleep courses," you'll also get a cosy pillow, comforter and bed flanked by a nightstand equipped with an alarm clock and a smart lamp set to 'relax' mode. An attendant serves up a warm cup of decaf just before you settle in for some sweet slumber so your body's set to wind down for a while. For optimal sleep, there's even an air purifier in the corner. And, for those who nap for 120 or 180 minutes, they'll even provide sleep analysis data so that you can go home with a better understanding of your sleep quality. 
Best for: A quick recharge
Address: Tokyo-to, Shinagawa-ku, Oi 1-7-7 K-2 Building 5th Floor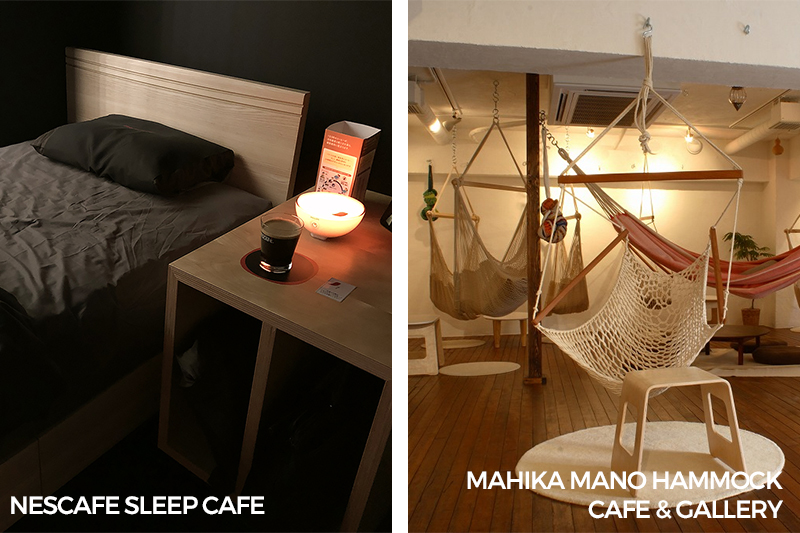 Tokyo's most famous night haunt has uses beyond belting out some classics. It turns out, while it might not be the most obvious choice for a place of rest, karaoke spots often find their private rooms catering to those who need a lie-down. Regarded by many to be a fun and safe alternative if you find yourself stuck in the city, these places are open until dusk. Find one with a good selection of private rooms for a last-minute solution to a missed-train problem! Big Echo and Joysound are hugely popular karaoke chains with branches dotted all around Tokyo. With the option to pay for an overnight 'free-time' session in a karaoke box, you'll be able to order food and drinks to your karaoke room too! But keep in mind, while this option may come with "room service," it doesn't come with shower facilities!  
Best for: If you've missed the last train and you're looking to turn a mishap into an adventure
Address: Here are the various locations for Big Echo locations
Capsule Hotels
For those looking to experience one of Japan's many novelties without overspending, Tokyo's famous pod hotels are not to be missed. Often deemed the cheapest hotel option on offer, here are three that stand out.  
Living up to its name, this capsule hotel in Shinjuku is quintessentially bookstore-meets-boudoir. Every wall and bunk is adorned with books in different languages with each capsule built into the surrounding bookshelves. Also open in the daytime, you can pop in here for a quick siesta, making the most of their free WiFi if you're in the mood to lounge around. Toilets and shower rooms are shared, whilst your pod, consisting of a simple futon and nightlight, is saved just for you. While these pods may be stripped down to the bare essentials, you have the option to book a superior room with a king-size bed and floor-to-ceiling windows! 
Best for: A bookworm to get their fix
Address: Kabukicho APM Building 8th FL 27-5 1-Chome Kabukicho Shinjuku, Tokyo 160-0021
Always at the forefront of innovation, leave it to Tokyo to come up with a state-of-the-art capsule hotel. The interior at this Shibuya spot is luxury-meets-minimalism, with great lighting, sleek designs and pops of colour, elevated by high-tech embellishments like electronic folding beds and projector screens in pods. Known to attract a fun crowd, you'll also often find live music, DJs, Happy Hour and sometimes even art exhibits, making this place a lively place to hang out. Here, you'll find a co-op section and female-only section, as well as an "art room" co-op section where each sleeping nook is decked out with very 'millennial' designs on its walls. 
Best for: Those looking to experience capsule hotels, but also make friends in the area
Address: 150-0041 Tokyo Prefecture, Shibuya-ku Jinnan 1-20-13, Japan
booking.com
the-millennials-shibuya-shibuya-ku-jp
If you've ever wondered what it'd be like to sleep in a spaceship, this is the place for you. Far from the usual hostel environment, 9 Hours is about comfort and practicality rolled into one. Well-lit, clean and convenient, this establishment gives its guests an hour before and after their 7-hour sleep to relax, prepare and shower as part of the package.  With 10 locations in Tokyo alone, this sleep capsule establishment is no stranger to providing an optimal sleep-and-stay experience. Treadmills, work desks and onsite coffee finish it all off.
Best for: Travellers who need a place to sleep before jetting off for a full day
Address: 3-11-15 Kanda nishikicho, Chiyoda-ku, Tokyo 101-0054 Japan – other locations here.
Not-Your-Regular Hotels
Known for its novelty attractions and sights, Tokyo is certainly not short of extraordinary places, including wacky accommodation options. We've vetted the ones worthy of special attention, whether it be for its beautiful design, unique amenities or a great community. 
"Stay in an art piece. Support an artist," says this hotel that goes well beyond bedroom and bar. An art exhibit doubling as a place to stay, the bedrooms here each feature a different artist's work, providing a truly immersive experience for its guests. In an effort to support the arts in Tokyo's community, part of the profits of each stay go to the artist who designed the room, and the results are knockout, with murals and lights covering the walls and ceilings in explosions of colours and strokes. Designed by some of Japan's leading creators, a stay at BnA Hotel is as unique as each of its masterfully designed bedrooms. At BnA Koenji, there is a bar called 'FrontDesk' where guests and locals from the art community often hang out, and a gallery called 'Backroom' where art events and exhibitions are held. Created by Yohei Takahashi, Room 1, titled "Into the Foreign," has a giant, vibrant mural of wolves. Known to be an experienced live painter, his work makes this room come alive with colours. 
Best for: Art lovers and Instagrammers alike
Address: All BnA hotel locations can be found here. 
Ever wondered what it'd be like to stay in a place serviced by droids? Henn Na Hotel is manned by robots – some people, some dinosaurs. Certified by the Guinness World Records as the world's first hotel with working robots, this out-of-the-ordinary spot is walking distance from some of Tokyo's more traditional must-sees like Tsukiji Market and Kabuki-za theatre – but there, it's standard tourist offering stops. In keeping with its futuristic services, the hotel has a Chromecast, a smart remote to connect with your smartphone, a mini-bot concierge that doles out information for tourists, and closets that are decked out with a garment-cleaning technology called TrueSteam to keep your clothes wrinkle-free and odourless during your stay. 
Best for: Those looking for the future! 
Address: 2 Chome-2-1 Tsukiji, Chuo City, Tokyo 104-0045, Japan
bna-koenji.com
en.japantravel.com
Expertly walking the line between modern and traditional, Hoshinoya Tokyo is a luxurious oasis for those who prefer the finer things. Rooted in Japanese hospitality and design, this establishment follows centuries-old customs with modern panache in order to provide an indulgent yet authentic experience for its guests. Next-level bath halls take up the top floor with huge hot springs that are filled with water from 1,500 meters below ground, crowned by a skylight that illuminates the entire space. Private domains in this classic and contemporary 17-storey ryokan are lined with paper window screens, and in keeping with tradition, futons sit atop grand bed stands lifted off the floor. With beautiful accents of natural light, muted colours and gorgeously crafted furniture, Hoshinoya Tokyo was built for blissful R&R. 
Best for: A luxurious stay steeped in traditional culture
Address: 1 Chome-9-1 Ōtemachi, Chiyoda City, Tokyo 100-0004, Japan
Self-described as a "local community hotel", this boutique spot has that cosy, homely feel, thanks to the local craftsmen and artisans that helped design this multi-class establishment. Offering everything from extravagant rooms with plenty of space, large beds and balconies to dormitory-style quarters with bunk beds and a shared kitchen, all rooms have plenty of natural light, slanted windows, geometric design influences and gorgeous furniture that'll make your stay feel like a home-away-from-home. 
Best for: Travelling groups or people searching for that home-away-from-home feel!  
Address: 2-16-2 Asakusa, Taito City, Tokyo 111-0032, Japan
Air BnBs 
Sometimes, the best way to experience a new place is to live in the home of a local. Airbnbs allow for you to connect with hosts who live in the area, making sure you have great recommendations on what's good to eat and see in your vicinity. These homes ensure a cosy stay with plenty of space, privacy and peace. 
This home is a spacious loft-style apartment with fantastic views and a sleek interior that'll make you wish it were yours. Perfect for group-travel, the two-bedroom duplex has a beautiful living space, balcony and large windows from floor-to-ceiling, showering the apartment in natural light. Located near Harajuku station, it's also situated in the perfect spot to go sightseeing around some of Tokyo's must-see spots. 
Best for: Those who like their space and convenience!  
Address: Shibuya-ku, Tōkyō-to, Japan. 8 minutes away from JR Harajuku Station.
A modern home designed by one of Japan's leading architects from the Baqueratta Architectural Design Office, this house is fit for a magazine cover. With four bedrooms including one traditional Japanese room, a rooftop garden and an open-plan living space, you'll certainly be vacationing in style at this spot. Complete with a hot tub, patio, garden and stocked wine cellar, it's not your typical Airbnb – but it'll definitely do the trick for your vacation needs. 
Best for: Those looking for a space with privacy and luxury in a busy city
Address: Minato, Tokyo, Japan. Hosts say they're happy to show people around! 
If you're hunting for a chance to experience Tokyo as authentically as possible, this two-floor family home, self-described as a 'hidden gem', is the perfect space for you to feel like a local with rooms complete with tatami, paper window screens and hammocks. Adding to its quaint feel, there's even an indoor fireplace. There are three bedrooms in this well-lit and clean home, and it's only a seven-minute walk away from an onsen. It can fit up to six people, so it's also great for those travelling in a group. 
Best for: Those in search of an authentic Japan home-stay
Address: Toshima-ku, Tōkyō-to, Japan
Related Articles
A Guide to Tokyo's Best Ramen Places
Our Guide to Tokyo's Best Sushi Spots